About Econoburn • Features • Photo Gallery • Resources
About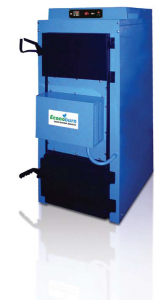 Born on the shores of Lake Erie in Brocton, New York, the team at Econoburn has over sixty years of steel manufacturing under their belt. This skill, and their vision for how home heating should be done, has led to the company setting the standard in fuel efficiency.
Econoburn boilers improve on the two-stage European gasification process and use a closed system, which increases their lifespan while generating more heat at less cost. And with Econoburn's long history in high-quality steel manufacturing, you can be sure that every boiler is certified to UL®, CSA, AWA, and MilSpec standards. Each unit is constructed of heavy-duty 1/4-inch ASME Grade 36 carbon steel, double-welded for even greater strength and durability, and models range from 100,000 to 500,000 BTUs.
Features
Burns half the wood of a normal wood stove, saving the homeowner money
Able to integrate into any already existing hot water boiler or furnace system
Achieves 87% thermal efficiency
Clean burn, leaving little residual ash, creosote, or ash
Double-welded 1/4″ ASME grade 36 carbon steel
Sizes available from 100,000 to 500,000 BTU
Covered with an exceptional 25 year warranty
Photo Gallery
Resources
Interested in an Econoburn? Check out the following for more information!
Econoburn Boilers at Obadiah's Woodstoves
Econoburn Videos on Wood-Boilers – Our video library for Econoburn Boilers.
Econoburn Brochure – An informative brochure. (to download, right click and select "Save As…")
Econoburn Manual – The owner's manual for the EBW and EBWC series of Econoburn Boilers. (to download, right click and select "Save As…")