History of Glenwood • Technical Specifications • Biomass Attachment • Photo Gallery • Resources
History of the Glenwood
The Mennonite community in Pennsylvania goes back hundreds of years, and while they are mostly a private people, they are well-respected as being extremely practical and helpful to their neighbors. It was with this mindset that, in 1977, a Mennonite man living in Ephrata began selling woodstoves from the heart of Lancaster County. As his business grew, he discovered that there was also need for a wood burning boiler, a device that was unknown to the area at the time. So he developed his own, naming it after the road where he did all of his business from: Glenwood.
It was impeccable timing. Between 1977 and 1982, the woodstove market exploded and demand for wood burning appliances went through the roof. Thousands and thousands of Glenwood boilers were made- all of them small, residential sizes. Homes throughout the eastern US became heated with Glenwood boilers, and Glenwood began its reputation of providing quality, reliable products.
But in 1982, oil prices dropped and the economy tanked. With interests rates going through the roof, the Mennonite man who started Glenwood decided to sell the business to his manufacturing partner, who kept the spirit of the company alive by spending over a decade investing in research and development while expanded into the industrial marketplace. There were two important things on the company's mind: High-efficiency and low smoke.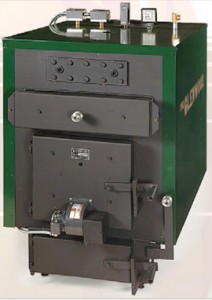 More and more people wanted a boiler that could burn wood and coal with heating oil as a back up, so Glenwood set to work on creating a boiler that could use any of those three fuels with the same efficiency.
In 1995, Glenwood introduced their modern boiler design, with water surrounding the firebox and a two-pass heat exchange system, the direct result of their time spent researching boiler technology. That design has proved to be incredibly reliable: "In the years between 1995 and 2015, I can still count on my one hand the times that I've had to fix them," says Glenwood owner John Kreider, who took over the company in 2008. "And usually when that happened, it occurred within the first year." An impressively low number, considering how many units Glenwood ships every year.
With Kreider at the helm of Glenwood, the company's reputation has continued to grow. Today, each boiler is made with care by a team of professionals, can burn just about any dry organic biomass, and is backed by a twenty year non-prorated warranty. Unlikely as it may be, if your boiler breaks down in nineteen years, Glenwood will be there to fix it. That's just how dedicated they are to their customers, and it's why Glenwood is one of the best boiler makers out there.
Technical Specifications
The Glenwood Boiler is built to commercial industrial standards from 1/4″ Boiler Plate Steel, and each corner is beveled and double welded. All Glenwood Boilers are pressurized and do not require water storage; they burn much the way a modern EPA woodstove burns- cleanly and efficiently. Glenwood offers models ranging from 100,000 to 1,000,000 BTUs, and their biomass boilers are capable of burning:
Cord Wood
Wood Chips
Wood Shavings
Wood Pellets
Pressed Wood Cubes
Processed Wood Blocks
Waste Wood Blocks
Pressed Logs
Rolled Up Newspapers
Cardboard Blocks
Saw Dust
Corn
Corn Cobs
Fodder
All Kinds of Coal
Coal Pellets
Coal Wood Pellets
Coal Biomass Pellets
Switch Grass Pellets
Dried Horse Manure
Dried Cow Pies
Trash
Waste Oil
Cooking Oil
Heavy Oil, #1, #2, #3
Fuel Oils
Biomass Attachment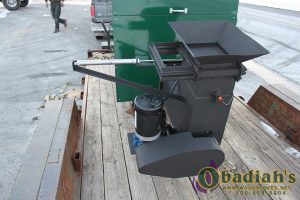 Biomass fuel is at once a blessing and a curse: On the one hand, it's often free or extremely cheap to acquire from sources like tree trimmers, county workers, or maintenance contractors, and anyone that leaves a pile of debris in their wake. But how do you deal with a pile of biomass once you have it? Shoveling chips and wood debris into a large boiler could be a full time job for someone.
That's where Glenwood's Biomass Feed Systems come in. Once properly set up, you will have a complete biomass processing station that is fully automated and can be custom built to burn a wide selection of biomass fuels from chips to cherry pits.
Glenwood's Commercial Biomass Feeder Systems are available in two sizes: The AT 800 and the AT 900. When one of these systems are attached to a Glenwood Multi Fuel Boiler with a second combustion chamber, you can burn just about anything out there that will fit through the feeder. As long as it is relatively dry enough to burn, it will burn cleanly and efficiently. Equipped with two separate combustion chambers, the Glenwood is unique in that you can burn biomass in one end and firewood or wood scraps (pallets, wood trash, and even cardboard) in the other. This allows you versatility that no other boiler offers.
These attachments are configured with a rotary-style airlock biomass feeder which works best for what is referred to as "Hogged Material". Hogged Material typically consists of materials like sawdust, or wood chips, or a combination of the two which is often the case. This type of material works best in our experience when a rotary-style airlock is feeding the wood chips and biomass into the Glenwood Commercial Series Biomass Boiler.
Built to commercial standards, the Glenwood Multi Fuel boiler with the AT 800 or AT 900 Biomass Feeder System is virtually bullet proof and is well proven on farms and business throughout the eastern United States. They have been used in pellet fuel manufacturing, cabinet and furniture manufacturing, wood processing plants, fabrication shops, prototype shops, greenhouses, agricultural applications, chicken farms, turkey farms, pig farms, dairy farms, tree farms, nurseries, equestrian centers, cattle ranches, tree trimmers, and many other applications that need heat and produce an abundance of their own fuels.
If you're looking for a solution to your heating or waste disposal needs, Obadiah's and Glenwood will help you find it through our custom engineering abilities. Obadiah's is the exclusive distributor for Glenwood, and dealerships are available. Contact us for more details.
Photo Gallery
Resources
Interested in a Glenwood? Check out the following for more information!
Glenwood Boilers at Obadiah's Woodstoves
Glenwood Videos on Wood-Boilers – Our video library for Glenwood Boilers.
Glenwood Brochure – An informative brochure from Glenwood (to download, right click and select "Save As…")
Glenwood Manual – The owner's manual for the Glenwood Boiler.