Empyre Boilers • Pelco Boilers • Cozeburn Boilers • Resources
***UPDATE. As of 2016, Pro-Fab is no longer in business and their boilers are no longer available. Pro-Fab parts are currently still available from Obadiah's via our Stove Parts store, but the manufacturer is no longer available to assist customers.***
While it started as a grass-roots company in 1989, Pro-Fab has since grown to incorporate manufacturing services for all manner of alternative energy solutions in Canada, the United States, and Mexico. Today, they've been manufacturing both indoor and outdoor wood furnaces for over thirty years, ensuring that you get not only state-of-the-art technology, but the experience that comes with such a lengthy history.
Pro-Fab's signature boilers and furnaces include the Empyre, Pelco, and Cozeburn lines.

Empyre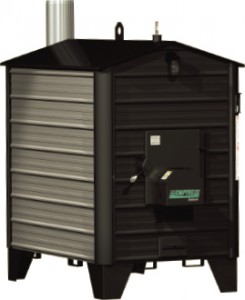 The Empyre Elite XT 100 by Pro-Fab is equipped with all of the same high efficiency gasification technology that comes with the Empyre Elite models but ruggedly built for outdoor installation.
Using dual burn chambers, the Empyre Elite 200 uses a process called wood gasification to produce highly efficient combustion. Wood in the firebox burns from the bottom up, drying the top layer in the firebox and pushing hot gases and exhaust into the lower burn chamber. There all of the gases will burn off in temperatures as high as 2000 F. In order to maintain consistent combustion the fire brick lining in both burn chambers absorbs the heat and maintains burn chamber temperatures. This high temperature gasification lowers emissions, prevents creosote buildup, and minimizes ash buildup in the furnace. After passing through the burn chamber, exhaust air is forced through multiple flues running through the water jacket, heating the water quickly and efficiently.
Pelco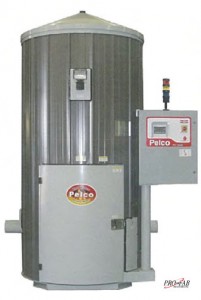 The Pelco PC 2520 is a biomass hot water boiler that is efficient and suited for commercial or industrial needs. A wide variety of people have bought and used this high efficiency boiler for its massive heating capabilities such as farmers, manufacturers, and greenhouse operators. The Pelco high efficiency boiler incorporates many fine features that not only allow it to produce low emission levels, but to also increase convenience in operating such a powerful biomass boiler. This hot water boiler is capable of burning wood pellets, coal, and agricultural products such as corn, pelletized oat hulls, and much more.

Cozeburn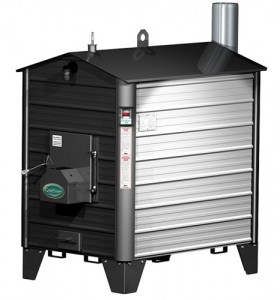 The Cozeburn is available in four sizes and offers both Mild Steel and Stainless Steel models. These multiple models cater to any residential or small business heating load and are equipped with several ports for multiple hookups. The Cozeburn is ideal for heating houses, shops, small greenhouses, pools, hot tubs, garages, sheds, and domestic hot water. The Cozeburn Outdoor Hot Water Furnace connects directly into your existing heating system in your home, shop, greenhouse, or other application. The Cozeburn is designed with a central firebox surrounded by a large capacity water reserve. The corrugated firebox top provides maximum surface area for the most efficient heat. After the water is heated, it is channeled to your home's heating system through underground insulated pipes.
In your house, the hot water from the furnace may be used for several applications. The hot water line is typically connected to your hot water tank through a heat exchanger, providing all your domestic hot water. The water is then channeled into the existing radiant or forced air heating system. Depending on the application, a water-to-air heat exchanger can be installed to direct the heat into your heating system. The Cozeburn is installed in conjunction with an existing heating system, which remains connected as a backup system.
Heat is thermostatically controlled on the furnace by setting the aquastat to your desired temperature, ensuring even, consistent, efficient heat. The Cozeburn is equipped with multiple hookups, allowing you to heat several buildings at once.

Resources
Interested in a Pro-Fab Wood Boiler? Check out the following for more information!
Pro-Fab Boiler Parts at Obadiah's Woodstoves
Empyre Cozeburn Outdoor Hot Water Furnace Brochure – (to download, right click and select "Save As…")
Empyre Elite Outdoor Boiler Brochure – (to download, right click and select "Save As…")
Empyre Elite Indoor Boiler Brochure – (to download, right click and select "Save As…")
Pelco Biomass Boiler Brochure – (to download, right click and select "Save As…")
Empyre Boiler Manual – (to download, right click and select "Save As…")
Cozeburn Boiler/Furnace Manual – (to download, right click and select "Save As…")
Pro-Fab Technical Documents
Pro-Fab Product Bulletin – Ash Removal In Secondary Burn Chamber
Pro-Fab Product Bulletin – Best Way To Light A Gasification Boiler
Pro-Fab Product Bulletin – Empyre System Optimizer
Pro-Fab Product Bulletin – Operating The Elite Furnace
Pro-Fab Electric Element Backup Option – Service Parts List
Pro-Fab Empyre Elite 100V1 – Service Parts List