About D.S. Machine • Features • Photo Gallery • Resources
About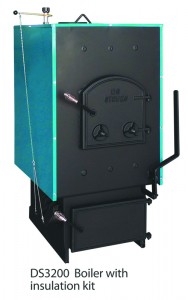 D.S. Machine is a family-owned, Amish business that has been designing and engineering boilers for 30 years. Their experience is evident in the ingenius craftsmanship found in each and every system they produce: For example, the cirulcating water has been placed in the front of all D.S. boilers to prevent cracking, only the best cast iron grate system is used, heavy 1/4 inch steel is used in the construction, and each system is pressure tested to 120 PSI. What's more, there is even a domestic water heating option, or the boiler can be added on to an existing hot water system.
D.S. boilers are perfect for anyone looking to live off the grid or just keep things low-tech. D.S. boilers do not require electricity, so if you're looking for an alternative to woodstoves that you can rely on no matter what, D.S. is right up your alley. These boilers are built to last, having gone through extensive testing, and are hand crafted in the United States.

Features
Burns Wood and Coal
Safety tested to UL Standards
External shaker handle
Heavy duty cast iron grate system
Cast Iron Doors
Large 9" cast iron ash door
Secondary air to burn gases
Water temperature and pressure gauge
30# pressure relief valve
3/4" boiler drain
Samson draft regulator
Large capacity ash pan
4-gallon per minute domestic water coil
Insulation – sheet metal cabinet
Forced Draft
Rear Exhaust Option
Photo Gallery
Resources
Interested in a D.S. Machine Wood Boiler? Check out the following for more information!
DS Machine Stoves DS4200 AquaGem Boiler – The AquaGem boiler at Obadiah's.
AquaGem Brochure – An informative brochure about the AquaGem Boiler. (to download, right click and select "Save As…")
D.S. Machine Stoves Brochure – An informative brochure about D.S. Machine's heating products. (to download, right click and select "Save As…")
D.S. Machine Boilers Owner's Manual – The owner's manual for all D.S. Machine boilers. (to download, right click and select "Save As…")